Fourth of July Rained Out! Oh no! Well, no worries, I will entertain you!
Naturally I will start with SHOES!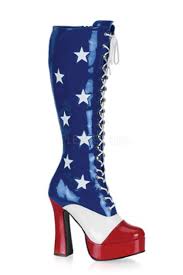 What do you think?  Do you have a favorite? Would you wear any of them? My favorites and what I would wear are not the same.  I always fear snapping an ankle!  I try to look hot with my heels and I only end up tipping over! (maybe it is the alcohol that generally accompanies the heels!)  Leave a comment below with your picks.
"Now for something entirely different" I don't remember where that quote is from, some cartoon way back when. Any guesses? Comment below if you know.
For The FACE…
I have plenty of time until the rain passes.  I think I will be playing make-up! How about you? Have you ever created an awesome make-up look for a special occasion? Show me!
Finally a few awesome nail designs…
There ya have it.  I hope I entertained you until Hurricane Arthur has passed and the sun is shinning!
(Thank you for the anonymous images around the web)
Wishing PEACE for all on this day of Independence!