Too many Holiday Dress 2013!
Finding the right dress can be overwhelming with the plethora of possibilities available. I hope to be able to ease your burden (if one could consider shopping a burden, lol)by sharing some of my favorite holiday dresses 2013. In all honesty I have to admit that when I HAVE to shop for something I actually despise it! To me the fun of shopping is in the hunt. It's not having anything particular in mind and finding your favorite item of the moment. And if it is on sale all the better the score!
I know I went a little heavy on the black selections but it is hard to avoid the ease of the LBD. I made sure to find something in "oxblood" even if that is an awfully bloody name for a color! I did find some other great colors too, like emerald green and turquoise. I also like my dresses to dance along with me! To flow and spin as I do! (it really is quite a sight once I am enmeshed with the music! 😉 If you're lucky you may get to experience it for yourself one day. Again, lol, I really do crack myself up.)
So here we go, find what you love and click through to purchase. It's that easy! Let me know if I made your holiday dress shopping 2013 just a little easier. Oh and I gotta mention, some of them wont even break the bank! More money for shoes!!
I couldn't resist the peacock on this dress! I just love the unexpected on an otherwise classic party dress.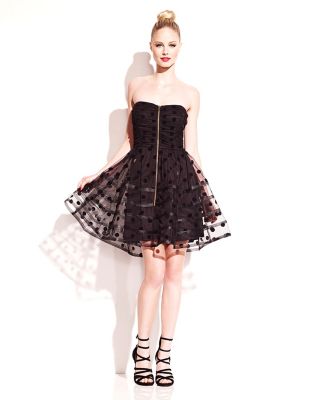 C'mon, you know you love it! Who could resist a polka dot, punky zippered Betsey dress??
No collection would be complete without at least one white dress. This one is pretty cute, huh?
A simple fishtail cut and a modern fabric make this dress just right.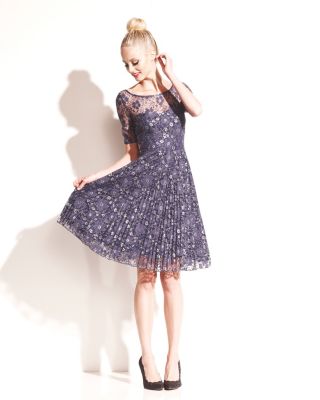 Prim, proper, sweet & sexy Betsey!

The Lira Sophie Dress has it all. Hi low cut, sheerness and a little leopard!

Well this is not exactly a dress but this is my favorite look of all of them! The shoes, the shoes, the shoes, I lust for them!
This says just enough with its starlight sparkle.

Is it 60's, is it modern, isn't it just fabulous! The hat really tops it off! 😉

Gotta love the Russian Dolls on the beauty! Talk about unexpected! <3 [caption id="attachment_2017" align="aligncenter" width="350"]
Start Up The Celebration![/caption]
Yep, it's pretty formal looking, except the awesome triangle cutout!

What can I say, cheap and sexy!! Will get attention for sure!

I don't know, there was just something about the simpleness of this dress that attracted me to it. Not to mention the sequin chevron design!

Red Hot! And won't break the bank, you can buy two!

This is sooooooo pretty. It would work clubbing or dining!

This is just out and out fun! Perfect for Clubbin' on New Year's Eve in New York City!(or your fab city,of course)

You will pay a mighty price for this dress but isn't it worth every penny? Just beautiful 🙂