Just a few steps out of Ted Gibson's Salon on Fifth Ave, we were invited to a fund raiser for a very good cause, Dress For Success. The event was called Shop for Success and that is what we did!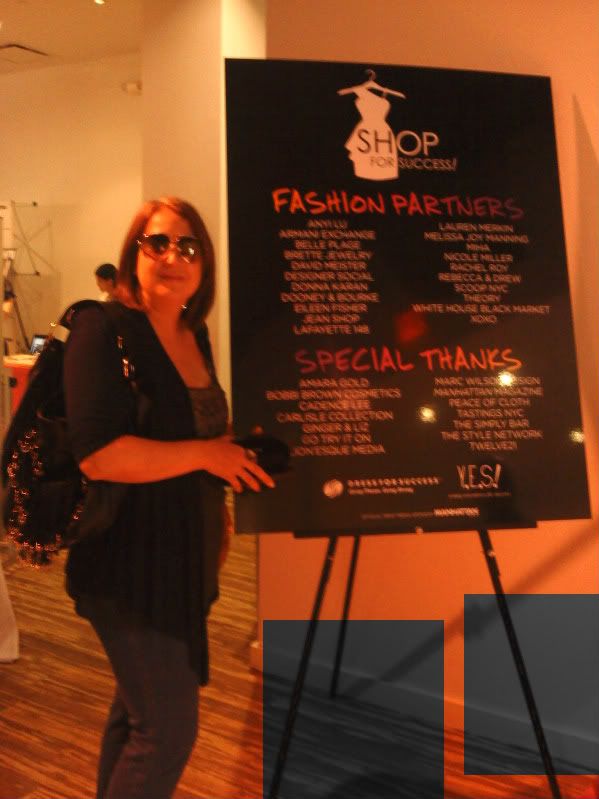 There were so many wonderful things to shop that were donated by many different designers that it was overwhelming!  Before I knew it I had my arms full and was swept away into the bobbi brown booth for a complete professional makeover!  The makeup artist who worked on me really took her time, I must have needed a lot of work!  I always love picking up a few new makeup tips so this was just perfect!  I learned what I do right and what I could do better!  Thank you BB!
I left there with Michael Kors Aviators!!!!  A Big Buddha Bag with FRINGE!!!  Just what I wanted!  Not to mention a few swag bags and ice cream!  I love NYC, you never know what you will find!
Next we took a long walk downtown with our destination being the FEAST! Of San Genero.  On the way we stopped by Washington Square Park and were very pleasantly surprised to find they were having the FIRST ANNUAL WASHINGTON SQUARE FOLK FESTIVAL!  What a day!  We watched a great all girl band (wait there was one guy) called the Calamity Janes.  www.myspace.com/calamityjanesband They were so cute and so talented, each and every one of them.  What a treat!!
As we approached the feast the anticipation was killing me!  We squeezed ourselves onto Mulberry Street and were quite surprised to see Turkish Food Booth, Asian Food Booths and all sorts of other non-Italian things.  I had never seen that before.  But once again we accomplished what we went there for, namely zeppoles, fried oreos and sausage and peppers!
And as if all of that weren't enough, I came home to find my Lancome Doll Lash Mascara in the mail.  The Vogue Influencer Network and I can't wait to see my reaction!!  Thank you Vogue and Lancome for the opportunity!   
My opinion will follow shortly!
Be sure to have your opinion heard by leaving a comment! Thanks. : )